4 Signs That You Need a Website Redesign
They say the world changes every four years. From the Olympics, to presidential elections, it's the societal norm to expect new beginnings within a four year time period. Hey, even Leap year follows this regime. And we can all agree that a four year old laptop or cell phone is pretty much full grown and ready to retire. So, why would a website differ? Since we're indulged on this number, here are four signs that it's time for a website redesign:
1. It's Outdated
The same way you'd look at a pair of bell-bottoms is the same way users look at an old website: the opposite direction. From bad graphics to tile backgrounds,  it's pretty easy to determine an outdated website. Unfortunately, the average user equates an outdated website with an unsuccessful business, so it's important to keep your site up-to-date. Thankfully, there have been major advancements made in content management systems over the past decade, where these old styles are no longer applicable. However, if your website still contains outdated software, such as flash, it's time to let go. Flash is at the top of the list of softwares no longer supported and will soon be nonexistent.
2. It isn't Responsive or Mobile-friendly
Google informed (more like warned) everyone that it now penalizes websites that aren't mobile-friendly. So, what does this mean? Well, if you have to pinch and zoom into your website on a smartphone, you're in trouble. Websites that are responsive to mobile screen sizes receive higher rankings in search result pages, while those without it, are pushed further down. The rise of smartphones and iPads/tablets for web browsing almost equates to that of desktop users, so it's wise for your website to cater to both. Responsive web designs adjust to all forms of devices and screen sizes, enabling the best user experience.
3. Low Search Engine Rankings
Aside from the above mentioned, there also other factors that can affect how well you show up in search results. Google's algorithm is cracking down on "abandoned" websites, those that appear as if they haven't been touched in years. Blogs are currently trending, and many businesses have found it effective to include a blog or "posts" page on their website. Google identifies new, consistent blog posts as "fresh" content, and deem them active. Other issues, such as a slow loading time, cluttered content, and a disorganized sitemap, strongly affect your site's click-through rate, and inevitably, it's SEO.
4. Business has Grown and/or Changed its Brand
If your business has grown and advanced over the years, your website should exemplify that. New products and services means new target audience outreach. A client of ours, Spa-tacular Parties, started out as a mobile business, and later expanded to having a storefront boutique. With a new building and merchandise, Spa-tacular needed a redesigned website to highlight their location and latest additions for potential buyers.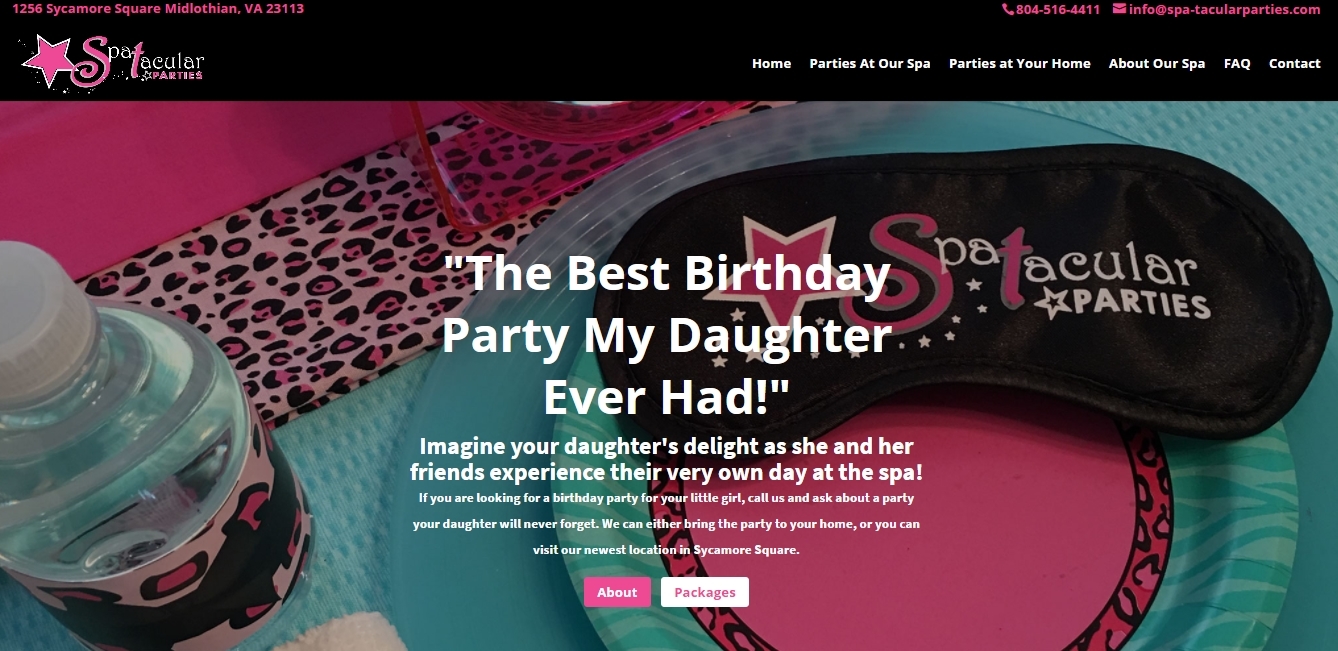 Now that you're all caught up on the trends, rules, and regulations, I'm sure you're aware it's time for an upgrade. No need to scratch your temple and contemplate. Just let us know when you're ready.
Emerge is a digital marketing boutique firm that helps you grow your business through affordable website designs in Richmond VA. Our website designs are built to be Google-Friendly to give you the best possible chance of success.
© Emerge Richmond | All Rights Reserved